Pepper's Project Exhibition
COMMUNICATION ART IX
Reading VI リーディング
Program2 
Two Person's Exhibition for Reading
天邪鬼 「紅/KURENAI」 ・  林 千景「 猫に焦がれた男 」
11/17mon~11/22sat
11:00~19:00(sat~16:00 sun:close)

天邪鬼「紅/KURENAI」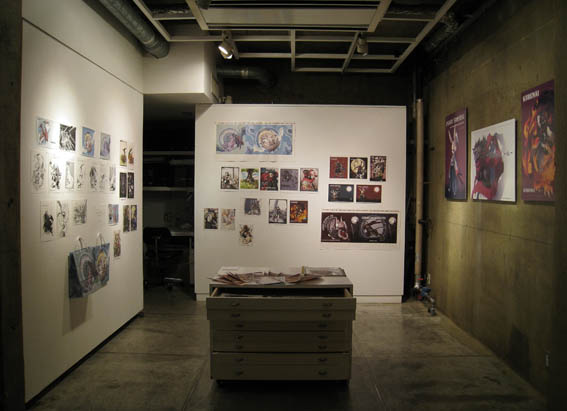 天邪鬼個人イラストサークル『R-device』
パソコンでジリジリと描き溜めた作品を各種イベントで展示・即売しています。
今回は時代劇ものをテーマにコミックイラストの制作・展示をしています。
AMANOJAKU [KURENAI]
AMANOJAKU and his personal illustration group "R-divice"
At various events, he exhibits and sells the computer-graphic arts he has created.
For this event, he will create and exhibit comic-illustrations inspired by Japanese traditional genre of play called "Jidaigeki".
AMANOJAKU
1975 Born in Miyazaki
1997 Graduated from Tokyo Zokei University
After graduation, he creates arts besides his job.
Major events
・Pepper's Reading
・Comic Market (semiyearly)
・COMITIA (four times annually)
林 千景「 猫に焦がれた男 」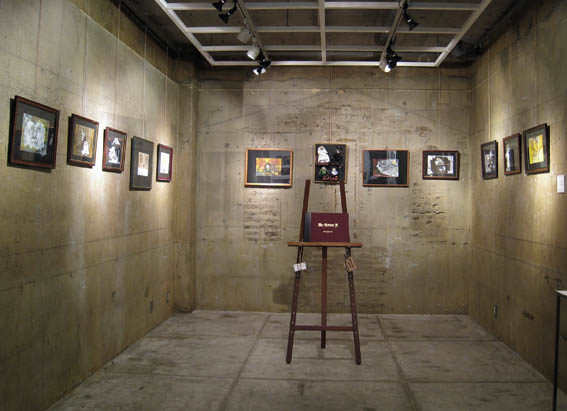 ( あらすじ )
とても、とても猫に焦がれた男がいた。
男は、一匹の猫を殺し、猫の耳と鼻、しっぽを手に入れ、偽の猫姿になった。 ダンボールの中に入り、山奥で誰かが来るのを待っている。そこへ、男の主人となるおじいさんがやってきて、男を拾ってゆく。主人は、自分の家に運び、男を家政夫として身の周りのことやらせた。  
_ 家には、主人と男、主人の飼い猫。
ある夜、男は主人の飼い猫にあることを告げられる。その日、猫の世界へ招待され、完全に魅せられていく。
猫の世界と、主人との生活が繰り返される日々。猫の世界への愛、主人への愛情、二つの気持ちに混乱を覚えていく自分。いつまでも人間臭さがとれずにいる猫に強く引かれた男の行方は—
CHIKAGE HAYASHI[Yearning to become cat]
(synopsis)
There is a man who yearns to become a cat.
He kills a cat and with the pair of ears, nose and the tail he earns, he turns himself into a pretentious cat. Deep in the woods, he becomes a cardboard-dweller and waits for someone to come along. An elderly man finds him, and takes him home. At the man's house, he uses him as his servant, and has him do the things around him. The elderly man, the "cat man" and a real cat in the house - one night, the real cat tells the "cat man" something, and he was invited to the world of cats. There, he falls under the spell of the world of cats. Days with his "guardian" and the world of cats - the devotion to the world of cats, and the love towards his guardian - he begins to confuse himself. The story continues and develops around the man who cannot completely cast off the humanity even after becoming a cat man...
CHIKAGE HAYASHI
1984 Born in Shizuoka-city in Shizuoka
2008 Graduated from Tama Art University in Interaction Design Major
    Started to draw picture books in third year in college
Awards The 14th Shinpoosha Piture Book Contest - Grand Prize with "The Man, the Lair and the Rabbit"
最終日11/22土曜日は16:00までです。