Pepper's Project Exhibition
Landscape XII
PART Ⅰ
Two Persons Exhibition
岡庭史枝 「 water temperature 」
牧野紗由利 「地図の皮、皮膚の表面」
5/3mon~ 5/8sat  
Pepper's Gallery
AM11:00~PM7:00(sat~PM4:00)

風景画というジャンルが興隆したのは19世紀末。1世紀を経て現代の風景、及び風景表現は大きく変貌しました。1999年4月にスタートしシリーズ12回目となる、絵画、彫刻、工芸、写真、デザイン、建築、インスタレーションなど様々なジャンルの新しい世代が現代のシーンへアプローチするProject Exhibition。
The genre of landscape painting first flourished at the end of the 19th century. A century later, both the contemporary landscape and its representation have been dramatically transformed.
This Project Exhibition will be the twelfth installment of a series started in April 1999. The exhibition includes contemporary approaches to the landscape by a new generation of artists in a variety of mediums including painting, sculpture, craft, photography, design, architecture and installation.
岡庭史枝 「 water temperature 」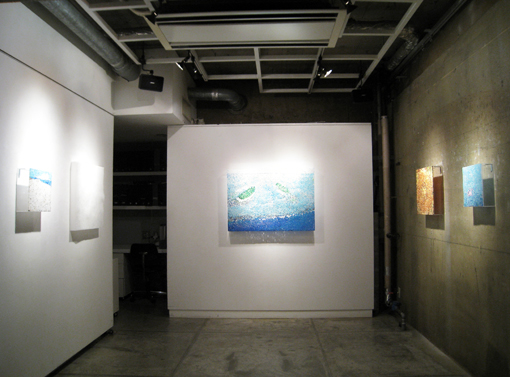 Fumie Okaniwa "water temperature"
I like Islamic mosaic. Mosaic's overwhelming ornament always knocks me over. And, when we are in beautiful nature, we find almost no meaning in drawing its beauty on canvas. Nature is beautiful. Yet, it inspires me and motivates me to create something. This is how I created my artwork this time. I'm blessed with those beautiful things around the world that inspire me. And, hope more to come.
Fumie Okaniwa
Born on July 7th, 1988
Currently in his senior year at Musashino Art University, Oil Painting Major
牧野紗由利 「地図の皮、皮膚の表面」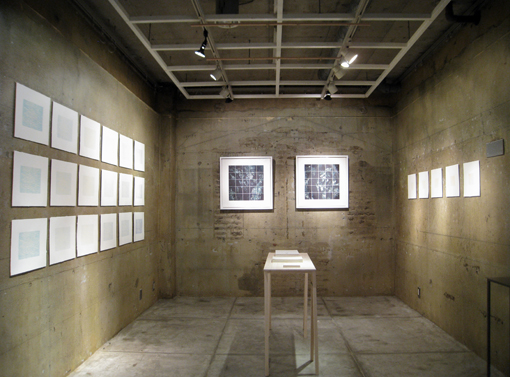 Sayuri Makino "Skin of Map, Skin of Skin"
I saw an actress on TV who was wearing a dress with world atlas on it. It works as an atlas, but it also works as a design. It was new to me. When you observe things' shapes and outlines without thinking about the function and the meaning of them, you will encounter new concepts and values of them. Words, symbols, things we see… This time, I'll use the atlas and part of my body to show how they would look before they are conquered by the "meaning". I believe my block print could express something that words and symbols can't explain.
Sayuri Makino
Born in Toyama in 1986
Graduated from Seian Unicersity of Art and Design
She is a middle school teacher/artist
最終日5/8(土)は展覧会はPM4:00で修了します。