ART CROSS PROJECT 2010
ARTISTS' CROSSING
2010. 7/20mon~8/7thu
at Pepper's Gallery & Other City Spaces

Program3 8/2mon~8/7sat Two Persons Exhibition

飯田 さやか  「media dolls」
菅野一剛    「Return to Innocence 」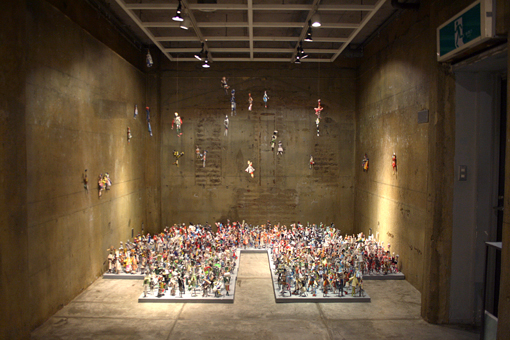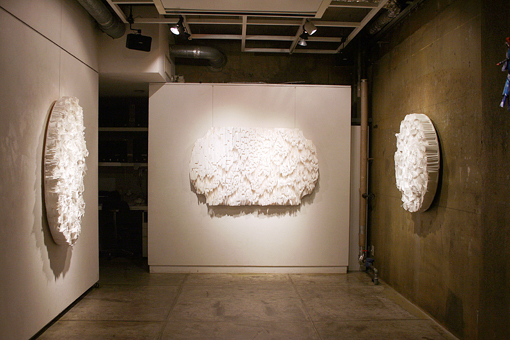 Sayaka Iida
「media dolls」
Media and human
Society with too much information, and the people who coexist in it – I created "dolls" using one of the media called "free magazines".
Sayaka Iida
1986 Born in Shizuoka, Japan
2010 Mar. Graduated from Musashino Art University, College of Art and Design, Scenography, Display and Fashion Design
Kazuyoshi Kanno
「Return to Innocence」
Rip off the things that decollate and protect yourself and
go back to your true self.
When papers and clothes are filed thinner,
they will show their hidden "true emotion".
It returns to your true, uncovered self.
Kazuyoshi Kanno
Born in 1978. After graduating from School of Arts and Letters at Maiji University, she worked for a gallery, ad agency and fashion company. As a fashion designer, she designed clothes and textiles for Tokyo Collection brands. Her textile design was introduced at NY Trade Show and Premiere Vision in France.
2004 -Two of her textiles were sold to Habu Textile Gallery.
Finalist – 2004New Designer Fashion Grand Prix
2005N.Y. MOMA Textile Dept. curator buys her textile
2008.9SICF exhibition etc.