Pepper's Project Exhibition
Artists' Prints IV
PART II
6/6 mon~ 6/11 sat
SOLO EXHIBITION
神山 歩「生まれる、はじける」
AM11:00~PM7:00(sat~PM4:00)日休
Pepper's Gallery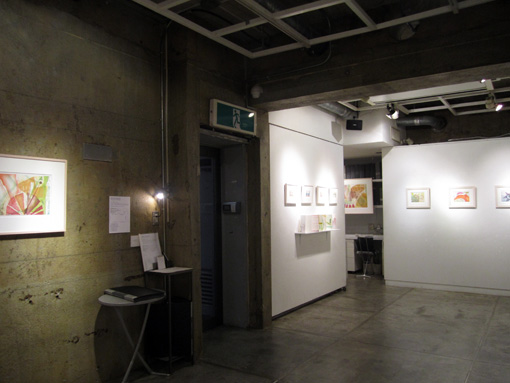 Ayumi Kamiyama "Born. Pop."
Are we ever going to be able to understand and remember all these things and changes around us?
When sluring on canvas, when carving blocks…it's milestones, and it's creating a new life. Creating art everyday – it's constantly helping the newborn grow.
In return, power of lives will pop out of the art and give us impressions. This is how I think of art every time I create art.
Ayumi Kamiyama
1987 Born in Chiba, Japan
2009 Graduated from Tama Art University, Faculty of Art and Design, Printmaking Major
2011 Completed graduated programs at Tokyo University of the Arts, Fine Arts Education Major
Exhibitions
2011 YOUNG ARTISTS' BOOKS FAIR_5th, Kinokuniya Bookstore, Shinjuku/NY
59th Tokyo University of the Arts Graduation Exhibition (Tokyo University of the Arts)
2010 78th Exhibition of Japan Print Association
87th Shunyo-Kai Art Exhibition 2010 (The National Art Center, Tokyo)
And more…
Awards
2010 Ikuo Hirayama Scholarship
2011 Salon de Printemps Award  
6/11(土)最終日はPM4:00に展覧会は終了します。