| | | | | | | |
| --- | --- | --- | --- | --- | --- | --- |
| S | M | T | W | T | F | S |
| | | | | 1 | 2 | 3 |
| 4 | 5 | 6 | 7 | 8 | 9 | 10 |
| 11 | 12 | 13 | 14 | 15 | 16 | 17 |
| 18 | 19 | 20 | 21 | 22 | 23 | 24 |
| 25 | 26 | 27 | 28 | 29 | 30 | 31 |
JART5th
8th Annual Emerging Japanese Artists' Exhibition
February 27th-March 8th 2015
Williamsburg Art & Historical Center (WAH Center)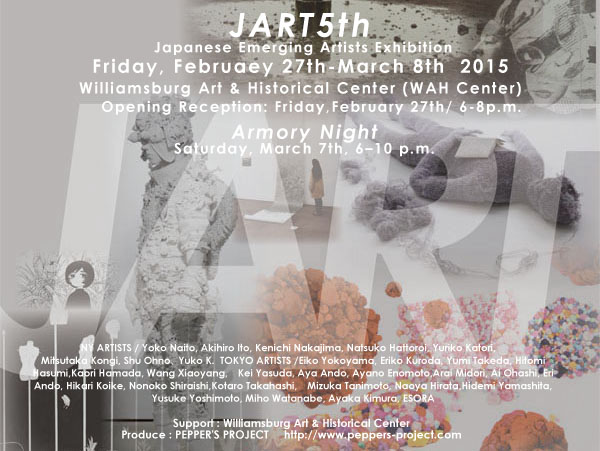 JART5th はTOKYO ARTISTS と NY ATISTSのコラボレーションで、日本の新しい世代のアートの流れをあらゆるジャンルに渡りプレゼンテーションするプログラムです。
ペインティング、版画、写真、オブジェ、コンテンポラリークラフト、インスタレーションなど様々な作品が歴史的な建造物、WILLIAMSBURG ART & HISTORICAL CENTER の空間のあらゆるスペースにコミットします。プログラムは1Fホールでのアニメーション上映プログラム"TOKYO ANIMATION"から、階段吹き抜けスペース、レストルーム、2FギャラリースペースなどWAH Centerを構成する様々な空間に展開する30名を超えるアーティストたちの試みとなります。さらにJART5thのLINK PROGRAMとしてNYの他のエリアでもいくつかのプログラムを展開します。
JART5th is an art exhibition introducing new waves of art of young Japanese artists from Tokyo, collaborating with NY artists. The program consists of all genre of art: painting, wood-block printing, photography, object, contemporary craft making, installation, so on and so forth. The art works will be exhibited and displayed everywhere inside WILLIAMSBURG ART & HISTORICAL CENTER, one of the historical buildings of Brooklyn, NY.
The program starts with "TOKYO ANIMATION" in 1F hall, and restrooms, 2F gallery…literally every single space in WAH CENTER. Don't miss out on this opportunity to see the artworks of over 30 young Japanese artists. JART5th will also present "LINK PROGRAM" in other areas in NY as well.
OPENING RECEPTION : February 27th,Friday 6:00~8:00pm
ARMORY NIGHT: Saturday, March 7th, 6–10 p.m.
PEPPER'S PROJECTsight:
http://www.peppers-project.com
NYsight:
http://jartwah.wix.com/jart5th
Access:
http://wahcenter.net
Support : Williamsburg Art & Historical Center
Produce : PEPPER'S PROJECT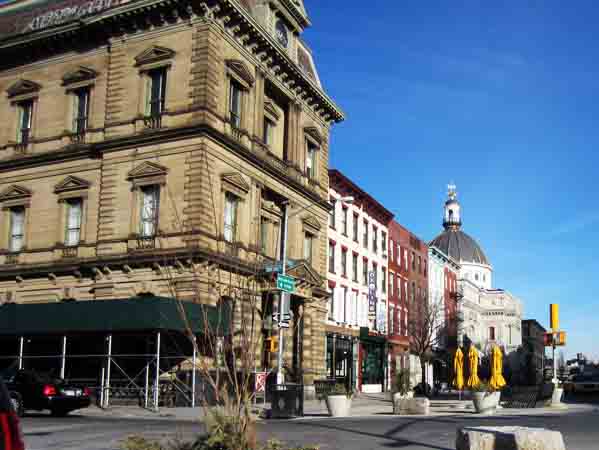 WAH Center (Williamsburg Art & Historical Center)
135 Broadway, Williamsburg Brooklyn, NY 11211
(718) 486-7372  or  (718) 486-6012
OPEN HOURS : Friday, Saturday and Sunday 12–6 pm
http://wahcenter.net
ARTISTS
NY ARTISTS / ないとうようこ、伊藤彰宏、中島健一、服部夏子、香取有理子、小名木光貴、大野 修、Yuko K.,
Yoko Naito, Akihiro Ito, Kenichi Nakajima, Natsuko Hattoroi, Yuriko Katori, Mitsutaka Kongi, Shu Ohno、 Yuko K.
TOKYO ARTISTS /横山瑛子、黒田依莉子、武田祐実、蓮見 瞳、濵田香織 、王 暁陽 、安田 敬、安藤綾、榎本彩乃、新井 碧、大橋藍、安藤愛莉、小池光、白石 伸々子、高橋幸太郎、谷本瑞佳、平田尚也、 山下季美、吉元 祐介、渡辺実穂、木村文香、絵空
Eiko Yokoyama, Eriko Kuroda, Yumi Takeda, Hitomi Hasumi,Kaori Hamada, Wang Xiaoyang, Kei Yasuda, Aya Ando, Ayano Enomoto, Midori Arai, Ai Ohashi, Eri Ando, Hikari Koike, Nonoko Shiraishi,Kotaro Takahashi, Mizuka Tanimoto, Naoya Hirata,Hidemi Yamashita, Yusuke Yoshimoto, Miho Watanabe,  Ayaka Kimura, ESORA
LINK PROGRAM
■Akihiro Ito "Tomorrow"
Exhibition Period: April 2014 – March 2015
Location: NE Corner of East Fordham Road & Webster Avenue
www.akihiroito.com
■Kenichi Nakajima "FEET PROJECT No.3"
On some streets in NY city
www.kenichinakajima.com
1F Hall /Tokyo Animation
安藤愛莉 Eri Ando, 絵空 ESORA,吉元 祐介 Yusuke Yoshimoto,高橋幸太郎 Kotaro Takahashi,山下季美 Hidemi Ymashita,ヒカリ・ペイジ HIKARI PAGE,渡辺実穂 Miho Watanabe, 平田尚也 Naoya Hirata,木村
文香 Ayaka Kimura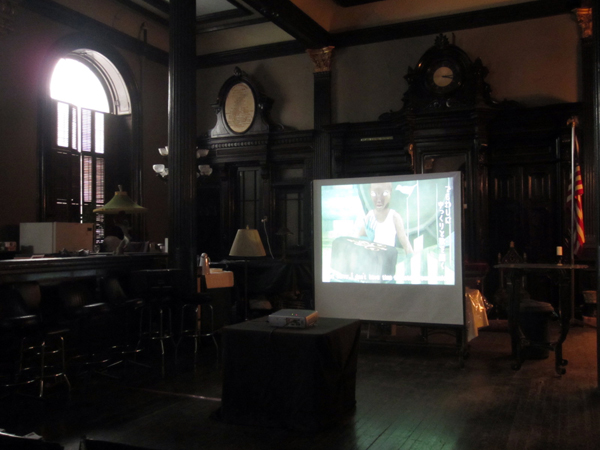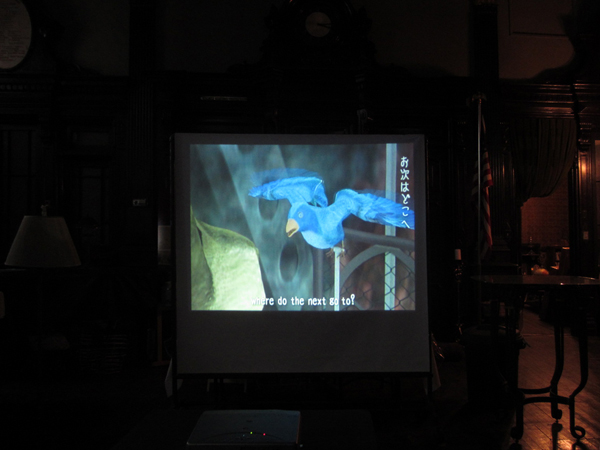 1F-2F Stairway
安田 敬 Kei
Yasuda (Tokyo)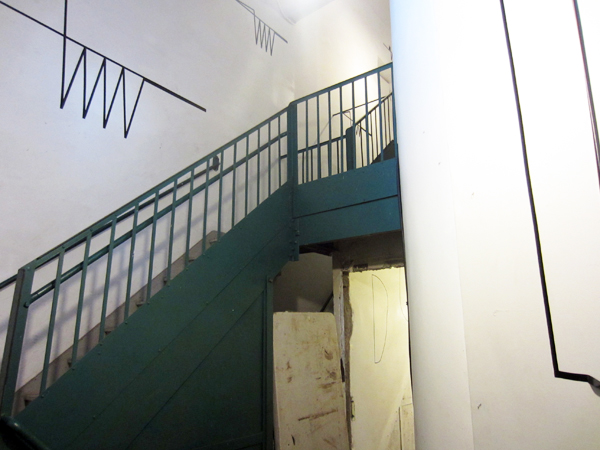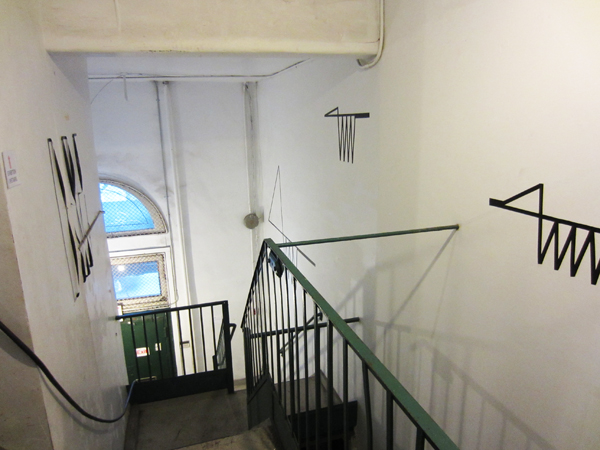 2F Gallery A
Yuko K. (NY) ,安藤綾 Aya Ando (Tokyo) ,榎本彩乃 Ayano Enomoto (Tokyo) ,蓮見 瞳Hitomi Hasumi (Tokyo) , 濵田香織 Kaori Hamada (Tokyo), 中島健一 Kenichi Nakajima (NY) , 王暁陽XiaoYang Wang (tokyo) , 大野 修 Shu Ohno (NY) , 服部夏子 Natsuko Hattori (NY), ないとうようこ Yoko Naito (NY), 横山瑛子 Eiko Yokoyama (Tokyo), 香取有理子 Yuriko Katori (NY) ,武田祐実 Yumi Takeda (Tokyo) , 新井 碧 Midori Arai (Tokyo) , 伊藤彰宏 Akihiro Ito (NY) , 小名木光貴 Mitsuta
ka Konagi (NY)
OP
ENING RECEPTION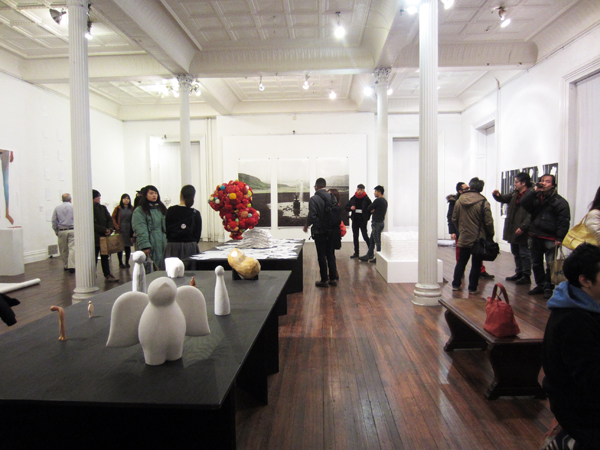 OP
ENING RECEPTION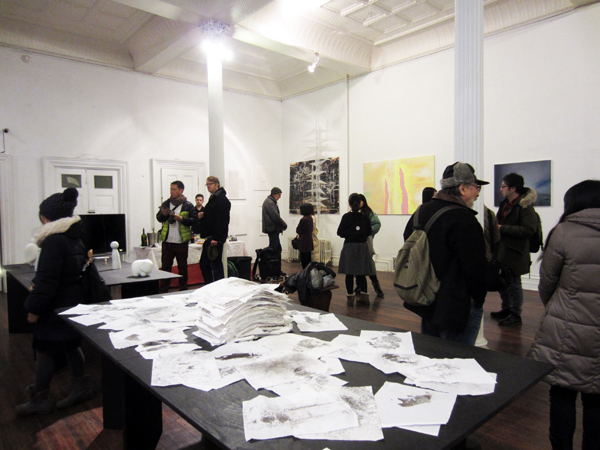 OP
ENING RECEPTION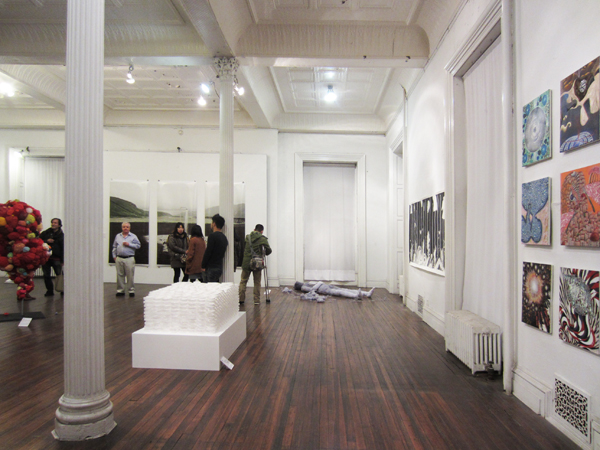 Sculpture in front:伊藤彰宏 A
kihiro Ito (NY)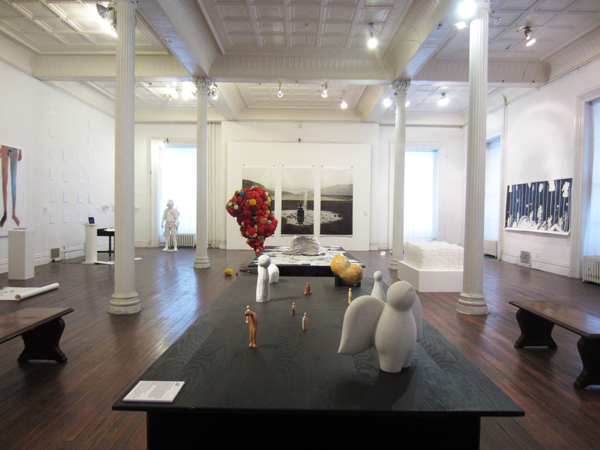 Sculpture in front:伊藤彰宏 Akihiro Ito (NY)
Dimensional works in the back, from left: Yuko K. (NY) , 安藤綾 Aya Ando (Tokyo) , 榎本彩乃 Ayano Enomoto (Tokyo) ,蓮見 瞳Hitomi
Hasumi (Tokyo)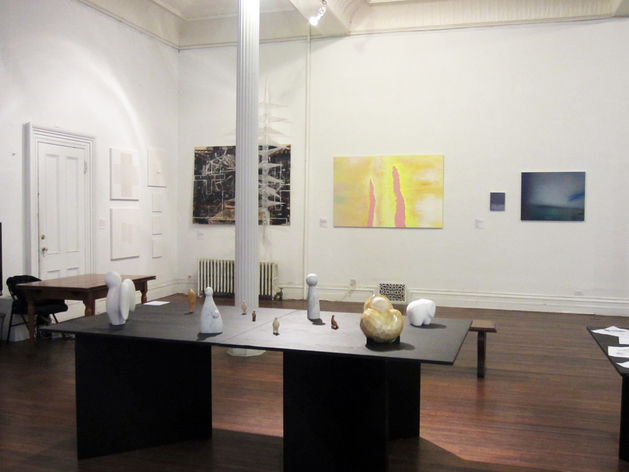 From the front of the left wall : 蓮見 瞳Hitomi Hasumi (Tokyo) , 濵田香織 Kaori Hamada (Tokyo), 中島健一 Kenichi Nakajima (NY) , 王暁陽XiaoYa
ng Wang (tokyo)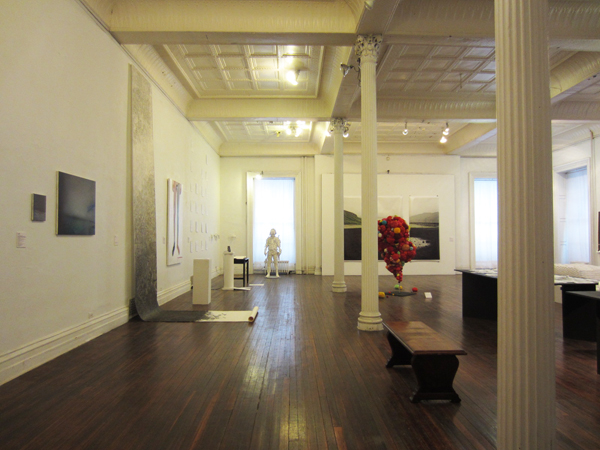 In front of the object work : 服部夏子 Natsu
ko Hattori (NY)
The back of the left wall : 王暁陽XiaoYang Wang (tokyo)
The back of the right wall : ないとうようこ
Yoko Naito (NY)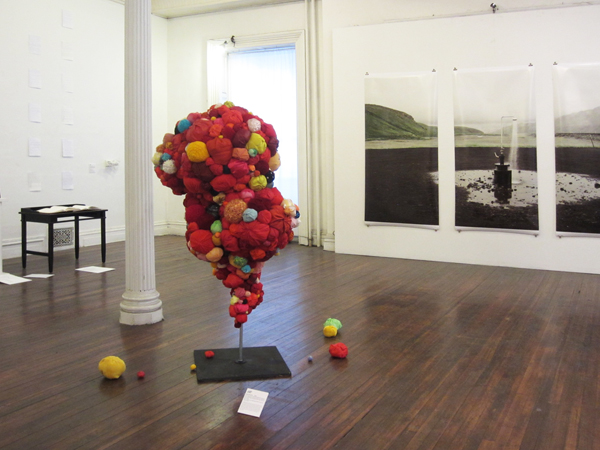 Left : 横山瑛子 Eiko Yokoyama (Tokyo)
Right : 香取有理子 Yuri
ko Katori (NY)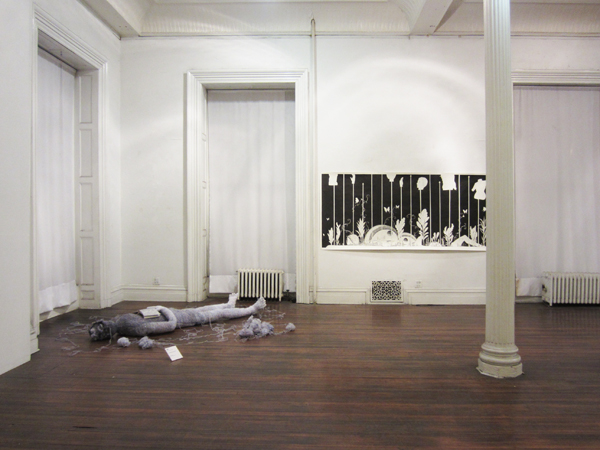 from right In front of the tables : 伊藤彰宏 Akihiro Ito (NY) , 濵田香織 Kaori
Hamada (Tokyo)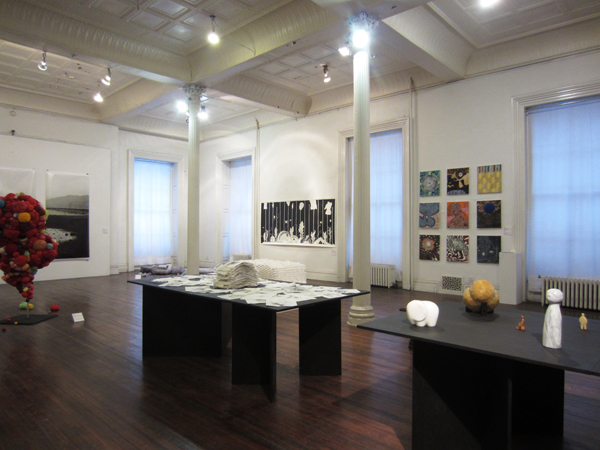 Front left of the object works : 小名木光貴 Mitsutaka Konagi (NY)
The back of the wall right : 武田祐実 Yumi
Takeda (Tokyo)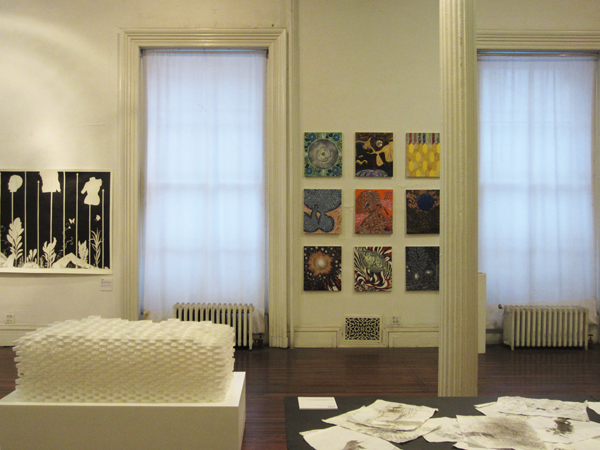 The left side of the wall in front : 新井 碧 Midor
i Arai (Tokyo)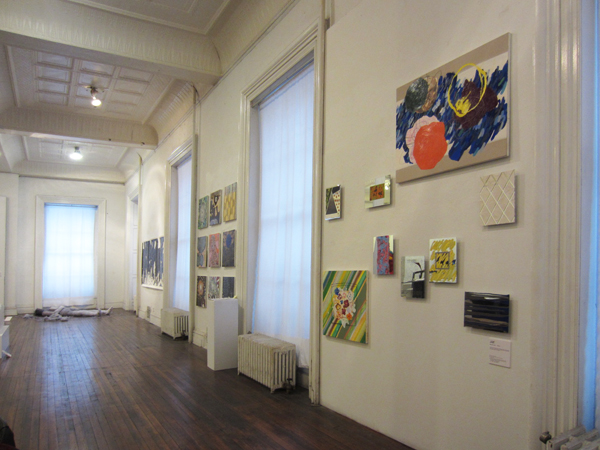 2F Gallery B
黒田依莉子 Eriko Kuroda (Tokyo), 大橋藍 Ai O
hashi (Tokyo)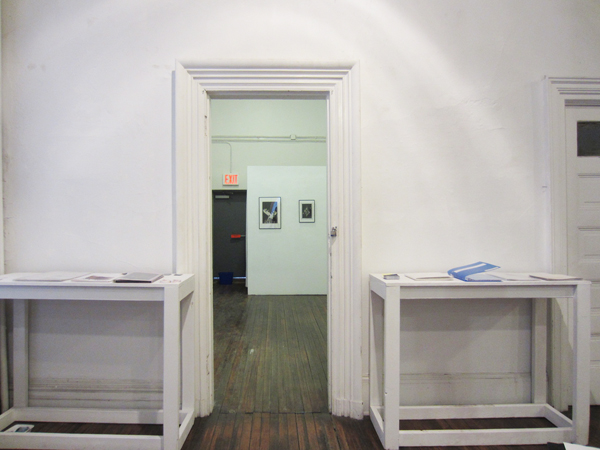 黒田依莉子 Eriko
Kuroda (Tokyo)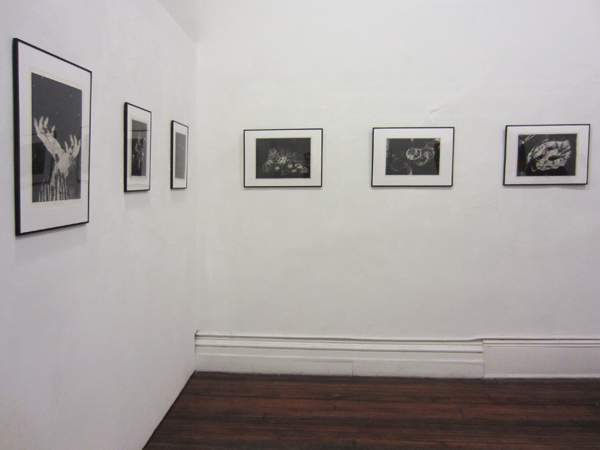 大橋藍 Ai O
hashi (Tokyo)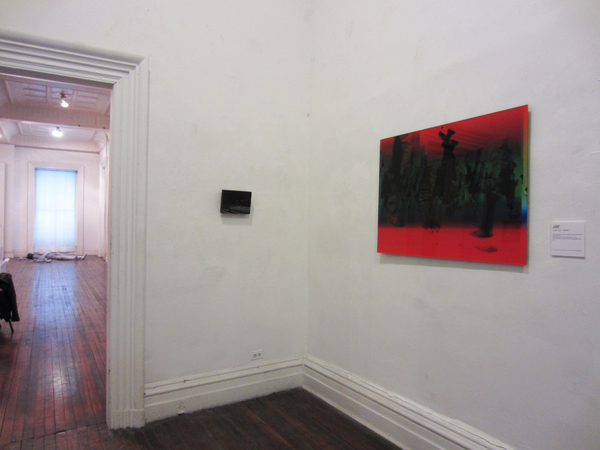 2F-3F Rest Room
安藤綾 Aya
Ando (Tokyo)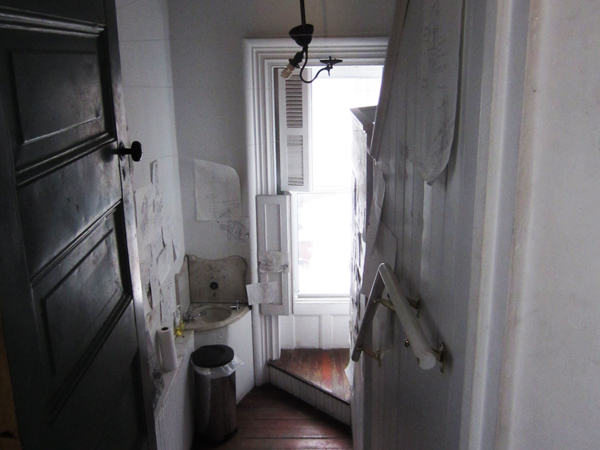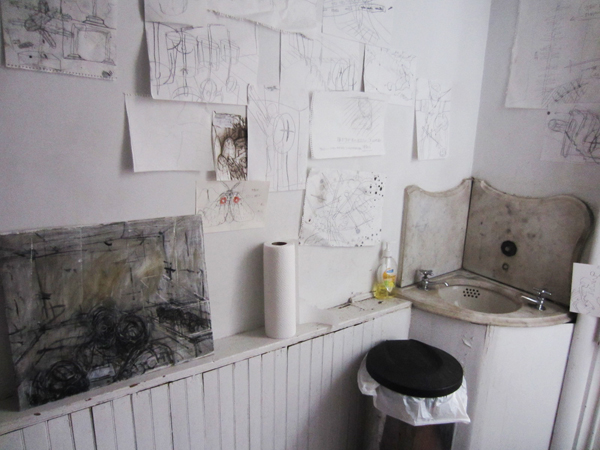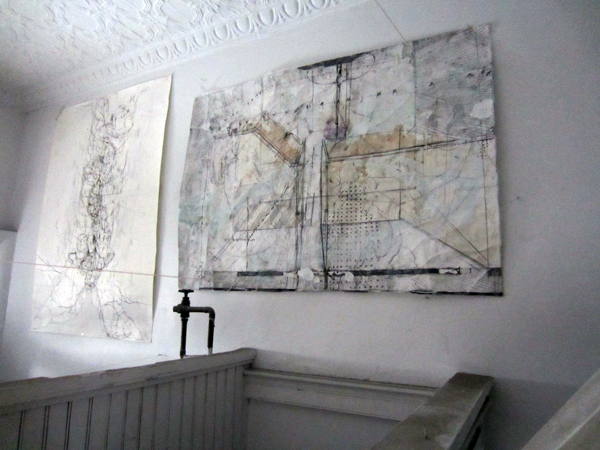 LINK PROGRAM
Akihiro Ito "Tomorrow"
Exhibition Period: April 2014 – March 2015
Location: NE Corner of East Fordham Road & Webster Avenue
www.akihiroito.com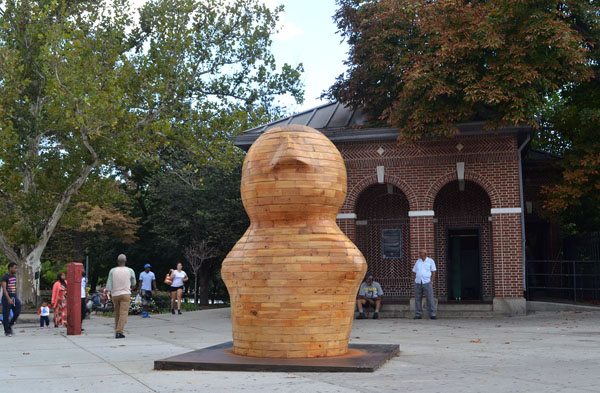 Kenichi Nakajima "FEET PROJECT No.3"
On some streets in NY city
www.kenichinakajima.com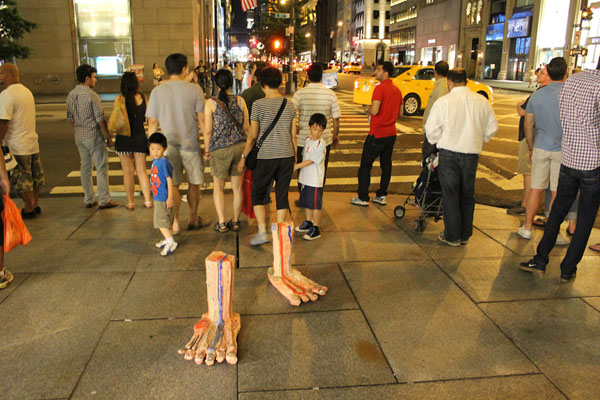 JAPANESE YOUNG ARTISTS' BOOKS FAIR_9th

February27th~March9th.2015



NEW YORK KINOKUNIYA BOOK STORES, Printed Matter, St. Mark's Bookshop, BOOK COURT

Japanese Young Artists are crazy about bookmaking now.
more than100 artists' books at 5 different locations in New York.

PRODUCE : PEPPER'S PROJECT   http://www.peppers-project.com
協賛:ニューヨーク紀伊国屋書店,Printed Matter, St. Marks Bookshop, BOOK COURT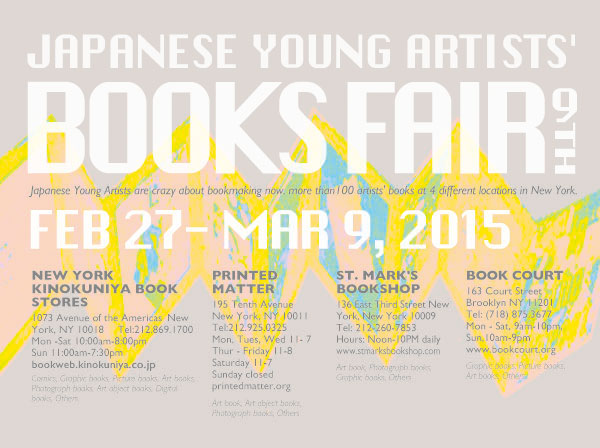 BOOK COURT
Carroll Gardens Brooklyn
February 27th- March 9th
163 Court Street Brooklyn NY 11201 Tel: 718.875.3677
MONDAY – SATURDAY, 9AM TO 10PM SUNDAY, 10AM TO 9PM
www.BookCourt.org
picture books, graphic books,poetry books ,others
ARTISTS
矢村 萌 Moe Yamura, 出野さゆり Sayuri Ideno, みやおまゆ Mayu Miyao, 矢部 萌 Moe Yabe, 吉崎徳望 Narumi Yoshizaki, 栗崎 心 Cocoro Kurizaki, 原岡容子Yoko Haraoka, 戸川木蘭 Mokuran Togawa, 山本真代 Mayo Yamamoto, 漆原さくらSakura Urushibara, 小沼加奈Kana Onuma, 新山 碧Midori Niiyama, かわらばったKawara Batta, 池田頼果Raika Ikeda, 田中彩織Saori Tanaka,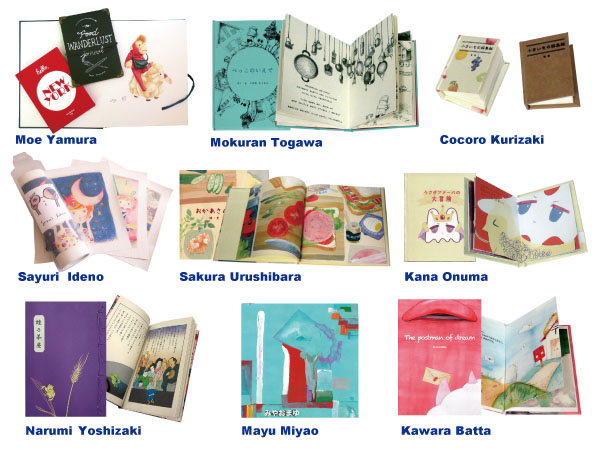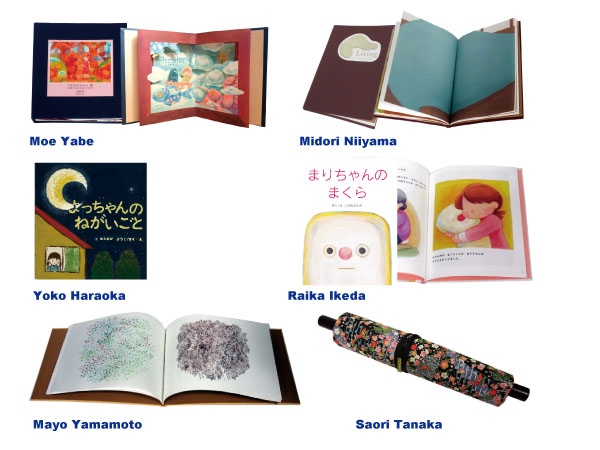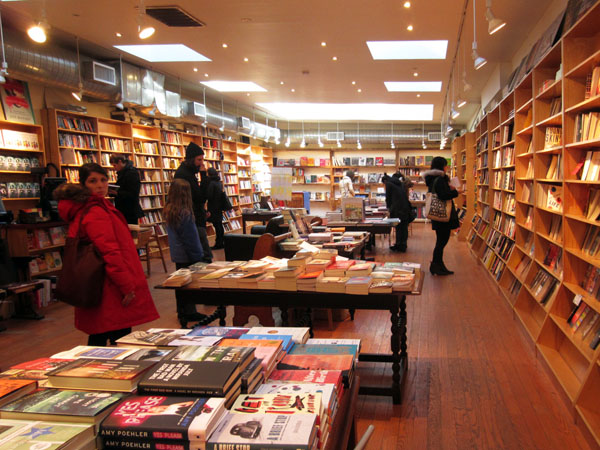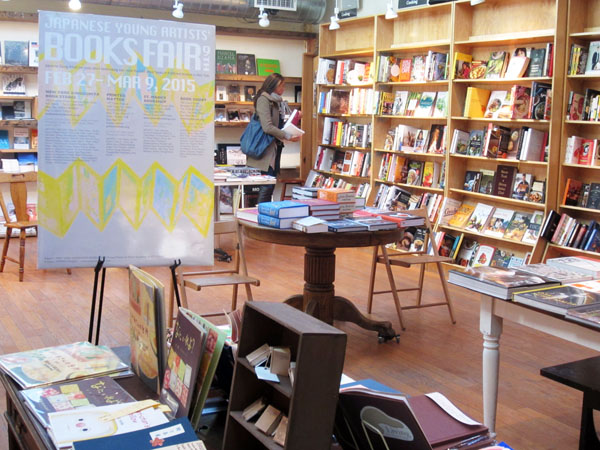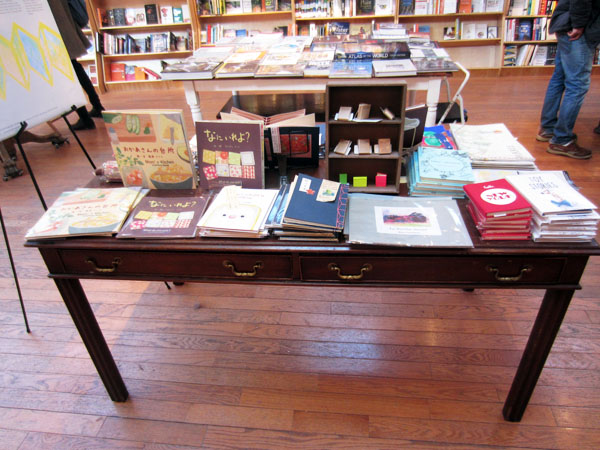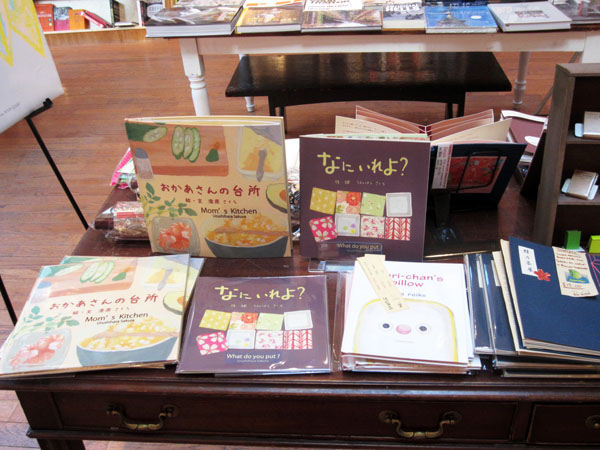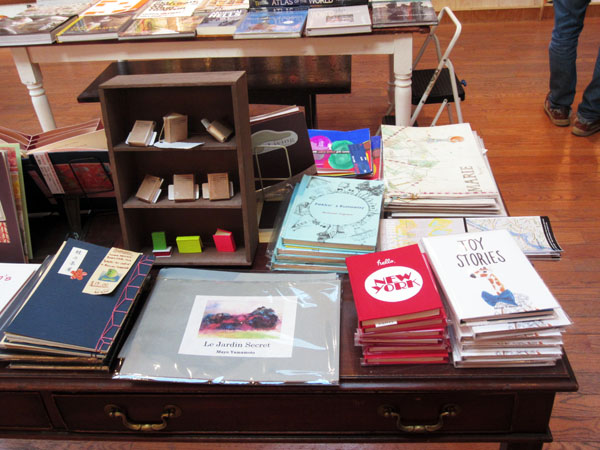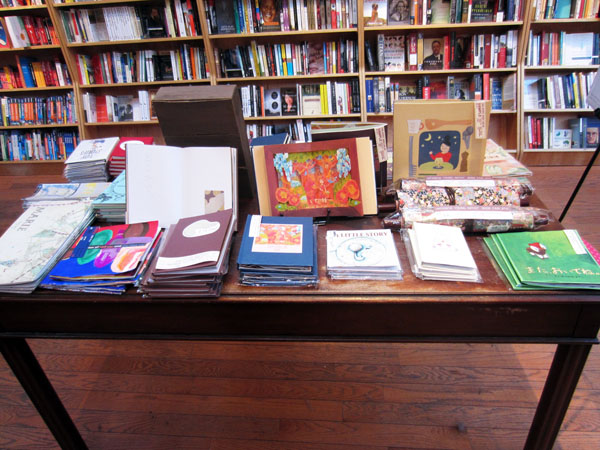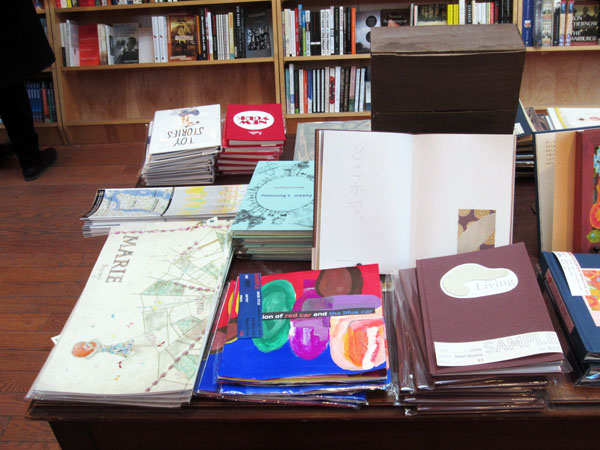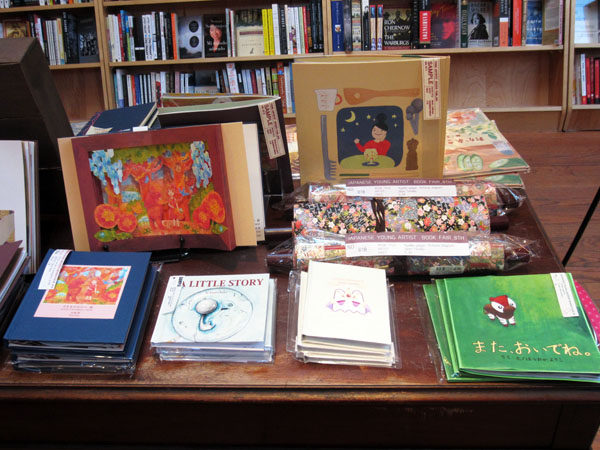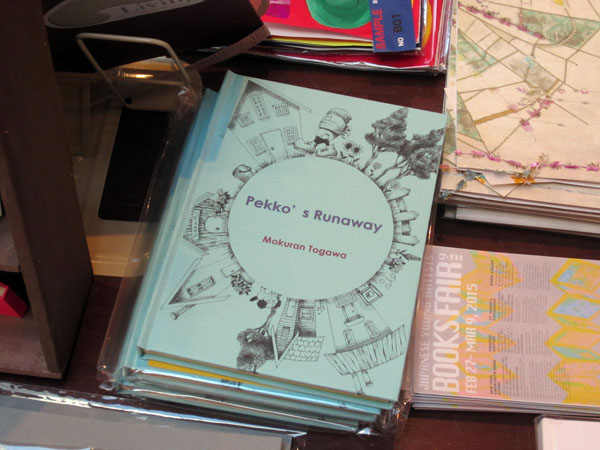 JAPANESE YOUNG ARTISTS' BOOKS FAIR_9th

February27th~March9th.2015



NEW YORK KINOKUNIYA BOOK STORES, Printed Matter, St. Mark's Bookshop, BOOK COURT

Japanese Young Artists are crazy about bookmaking now.
more than100 artists' books at 5 different locations in New York.

PRODUCE : PEPPER'S PROJECT   http://www.peppers-project.com
協賛:ニューヨーク紀伊国屋書店,Printed Matter, St. Marks Bookshop, BOOK COURT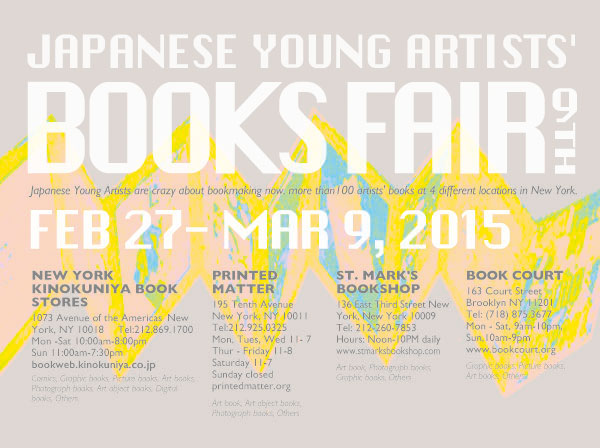 St. Mark's Bookshop

East Village
136 East Third Street New York, New York 10009   Tel: 212-260-7853 
Hours: Noon-10PM daily
http://www.stmarksbookshop.com

art book, photograph books, graphic books, others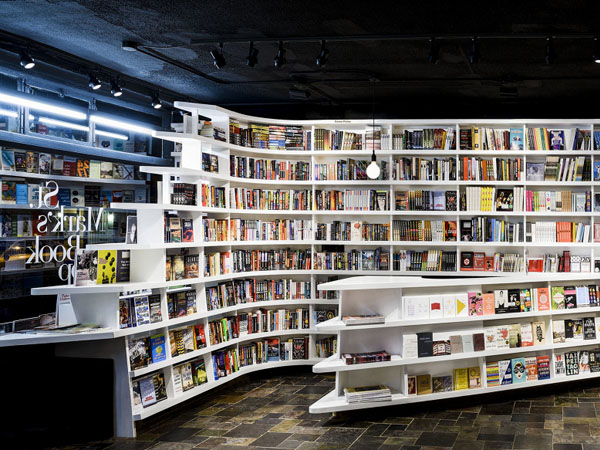 ARTISTS /
原岡容子Yoko Haraoka, 城林希里香 Kiriko Shirobayashi, ERICCO, ないとうようこ Yoko Naito, 香取有理子Yuriko Katori, Yuko K, //from the white room., 松井みさき Misaki Matsui, 棚井文雄 Fumio Tanai, 前田善志 Yoshiyuki Maeda, yoppii, めもるmemoru, 植木葉月Hatsuki Ueki, 安井春菜Haruna Yasui, 堀岡 暦Koyomi Horioka, 海野ひかりHikari Umino, 高 瑩 Gao Ying, 根本果奈 Kana Nemoto, アーサー・ファンArthur Huang, Kteam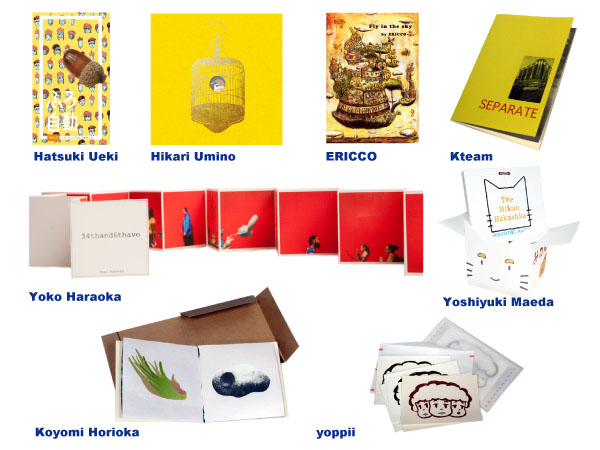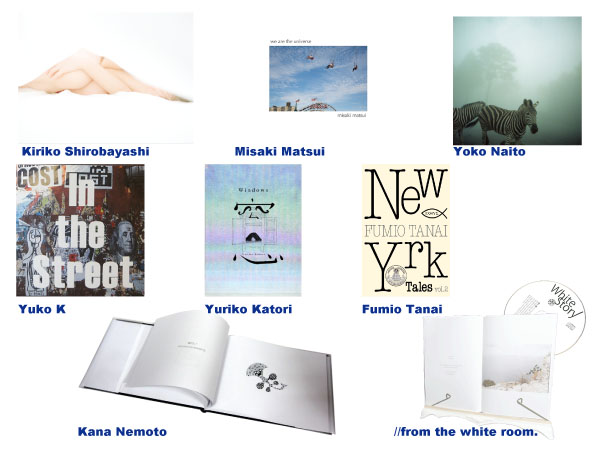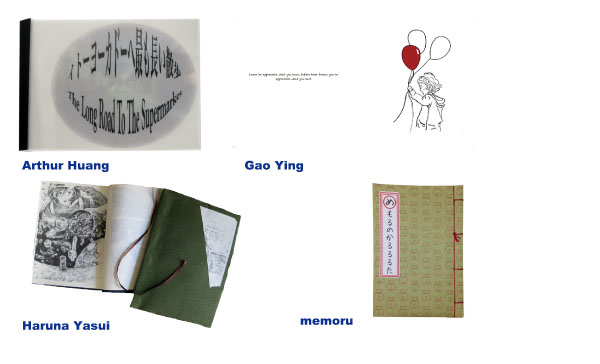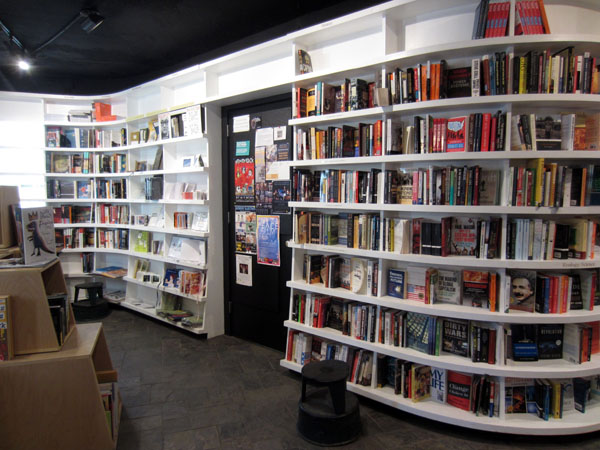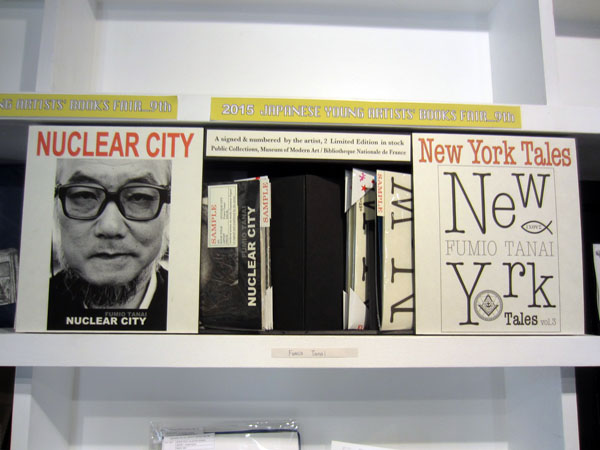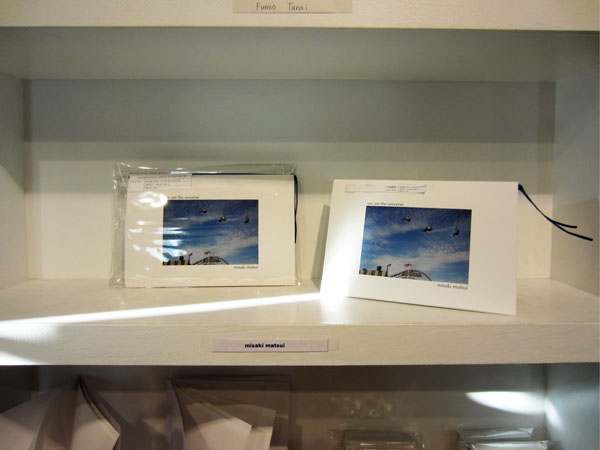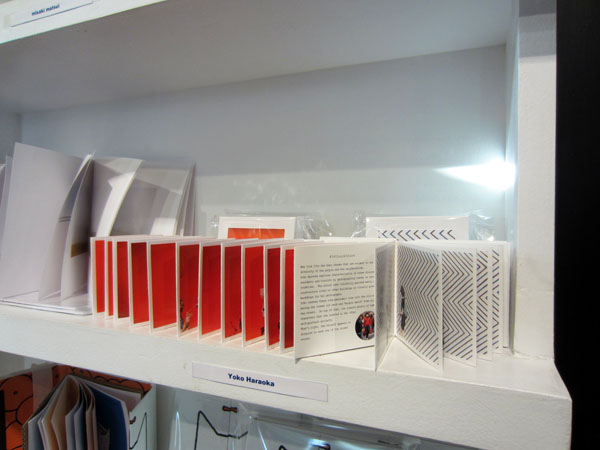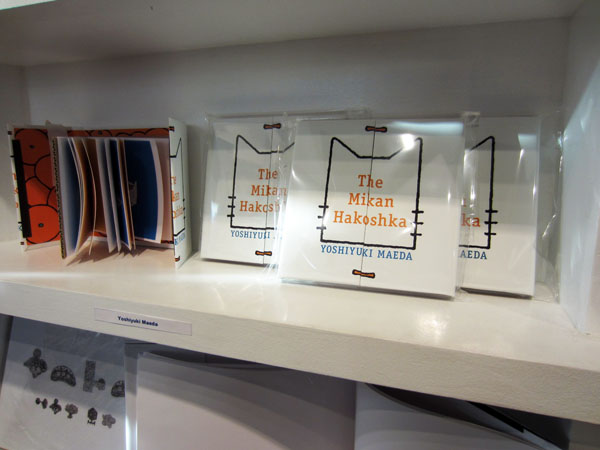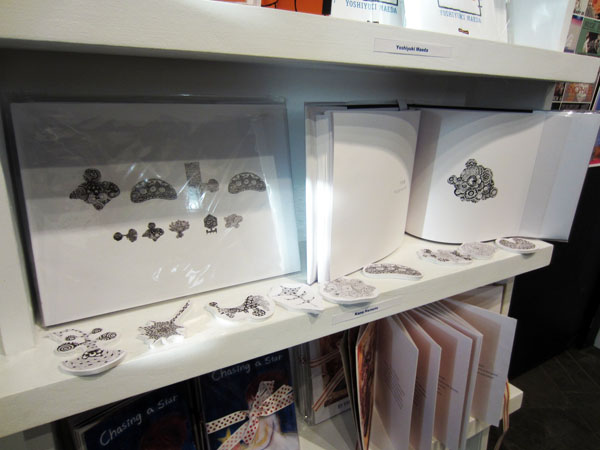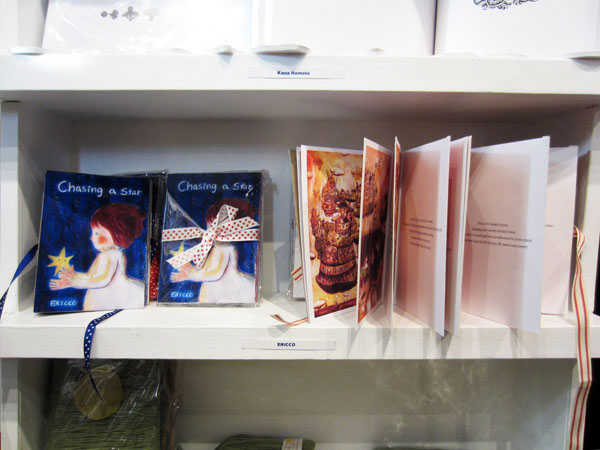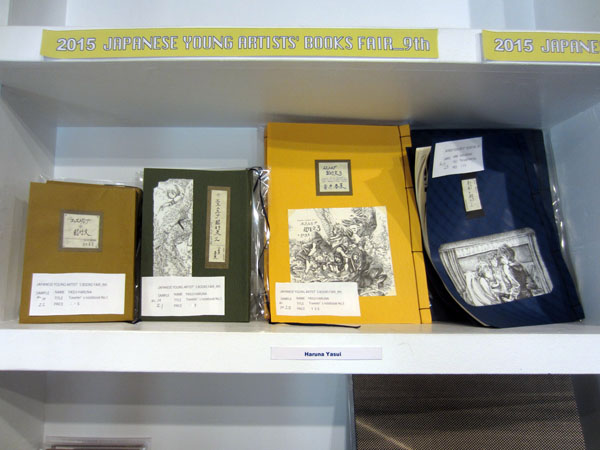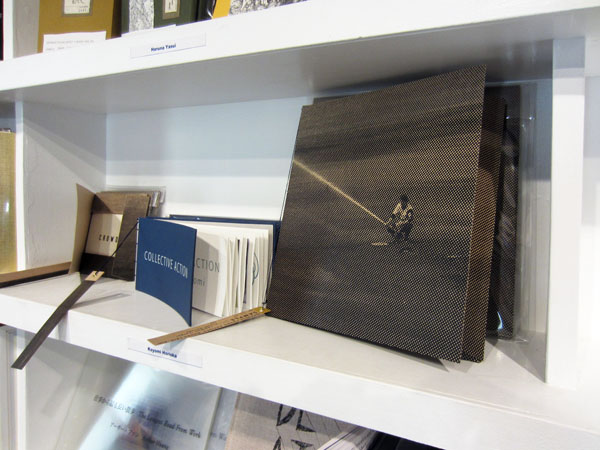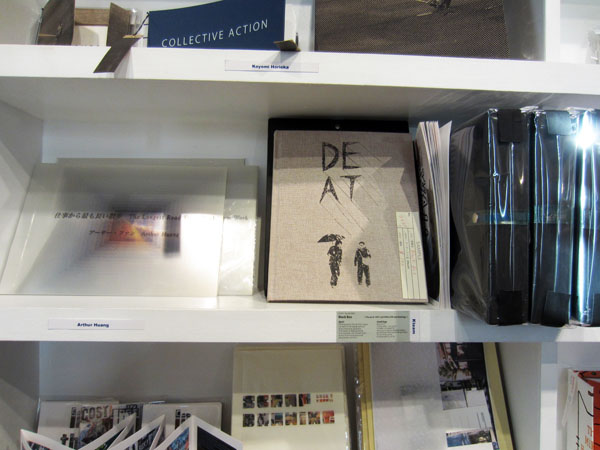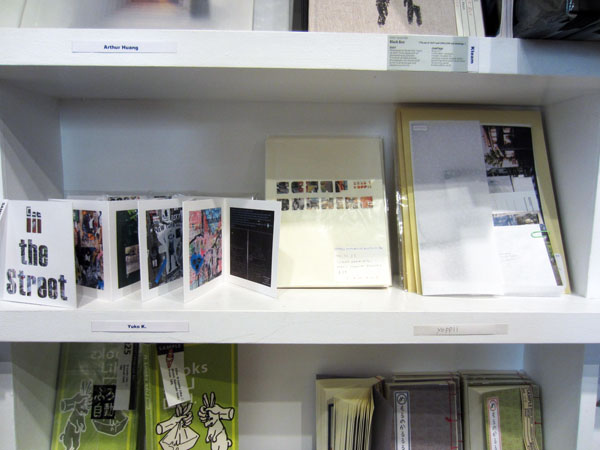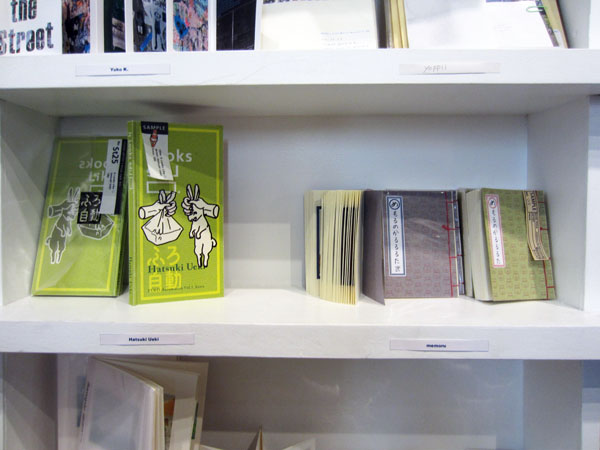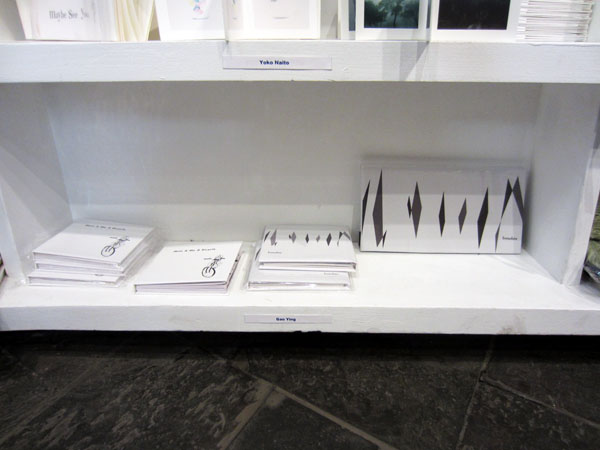 JAPANESE YOUNG ARTISTS' BOOKS FAIR_9th

February27th~March9th.2015



NEW YORK KINOKUNIYA BOOK STORES, Printed Matter, St. Mark's Bookshop, BOOK COURT

Japanese Young Artists are crazy about bookmaking now.
more than100 artists' books at 5 different locations in New York.

PRODUCE : PEPPER'S PROJECT  http://www.peppers-project.com
協賛:ニューヨーク紀伊国屋書店,Printed Matter, St. Marks Bookshop, BOOK COURT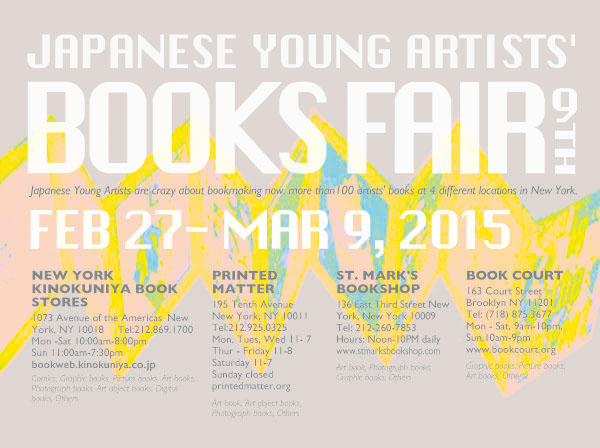 Printed Matter

CHELSEA


February 27th- March 9th


195 Tenth Avenue New York, NY 10011 Tel:212.925.0325
Mon–Wed: 11AM–7PM, Thurs–Fri: 11AM–8PM, Sat: 11AM–7PM, Sun: Closed
http://www.printedmatter.org

art object books, photograph books, others

ARTISTS /
ないとうようこ Yoko Naito, 香取有理子 Yuriko Katori, Yuko K., //from the white room., 松井みさき Misaki Matsui, 中田円香 Madoka Nakata, osage, 勝見泰里 Tairi Katsumi, Kteam, アーサー・ファン Arthur Huang, 山田和幸 Kazuyuki Yamada, 小林澪李 Mior kobayash, 鈴木絵里香 Erika Suzuki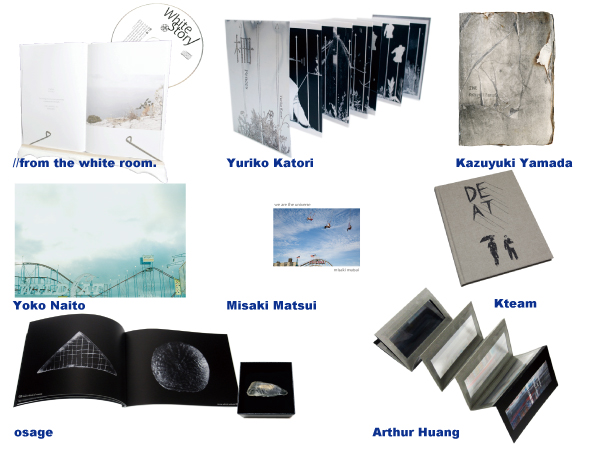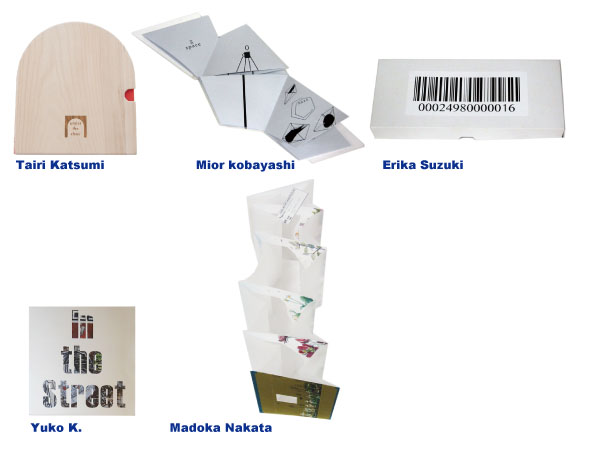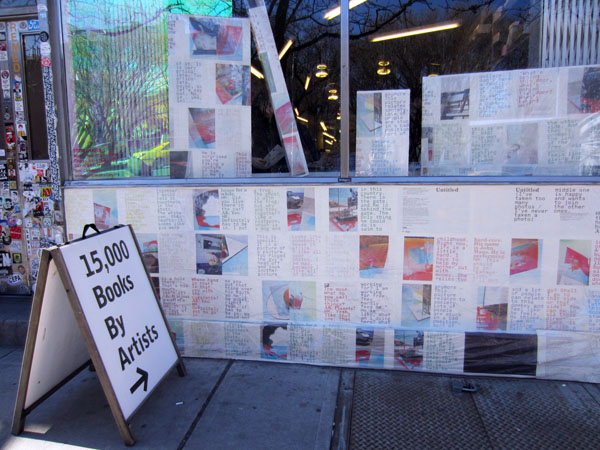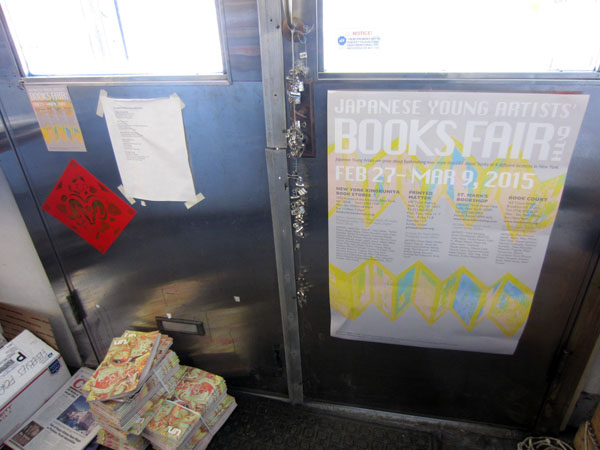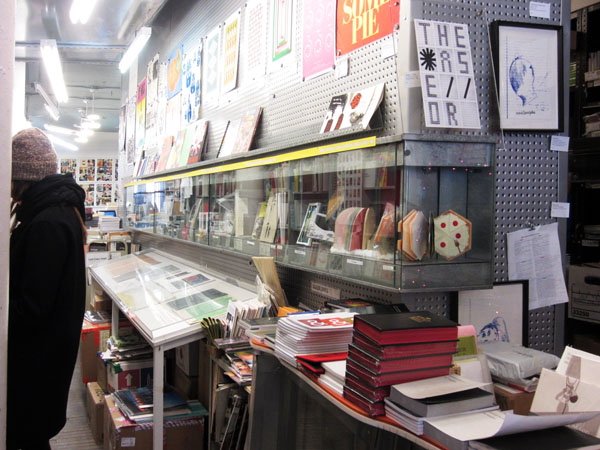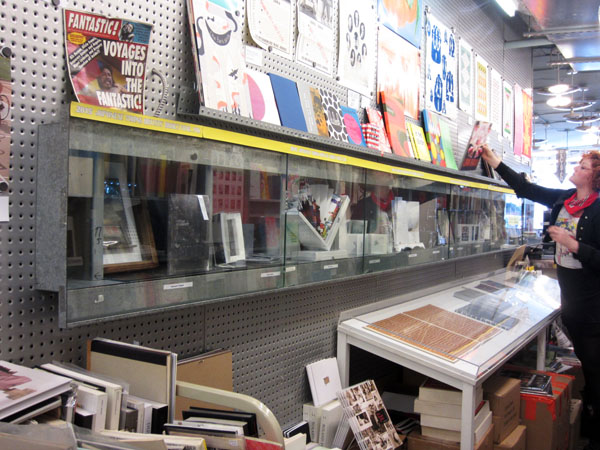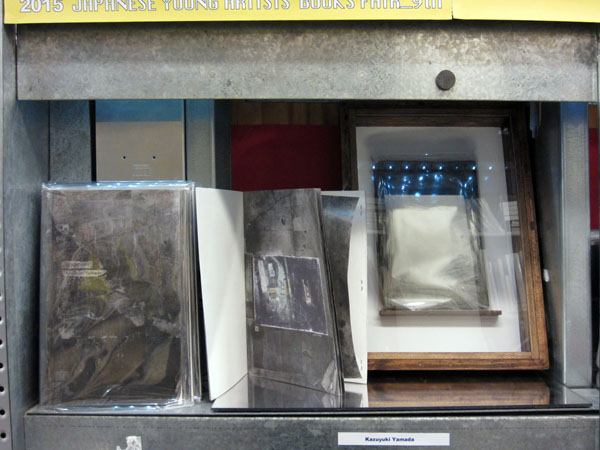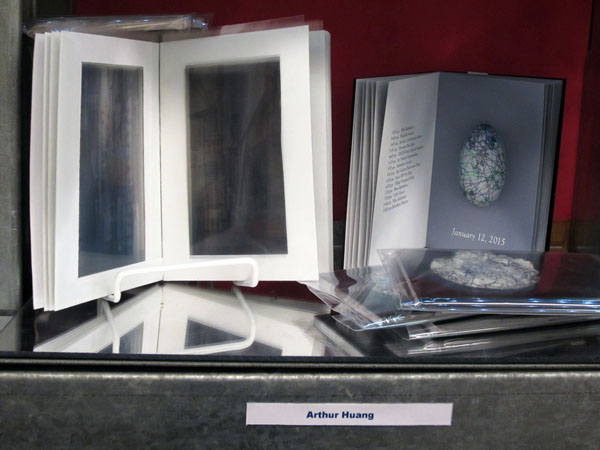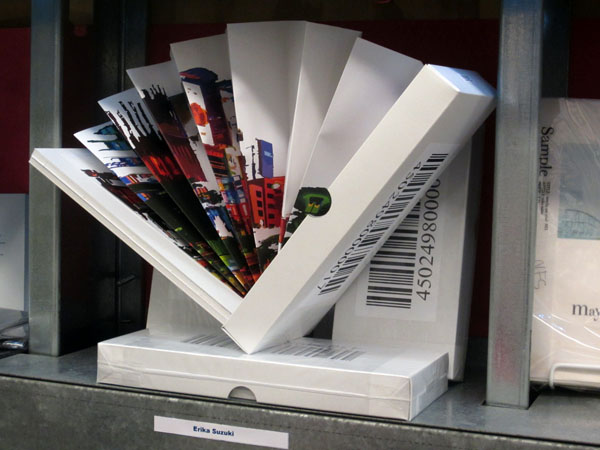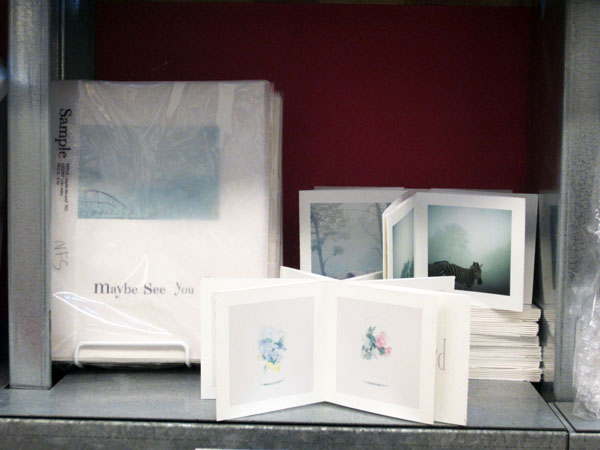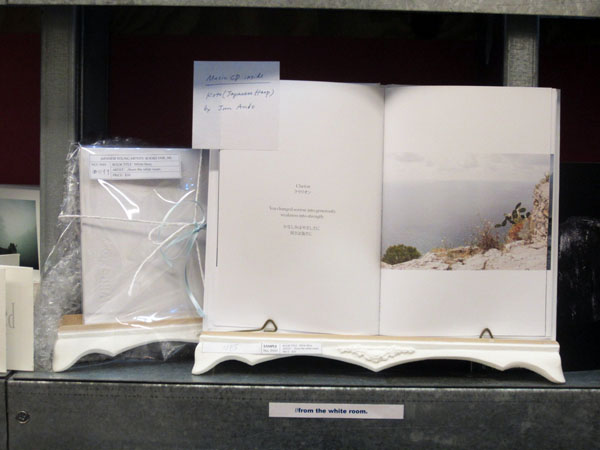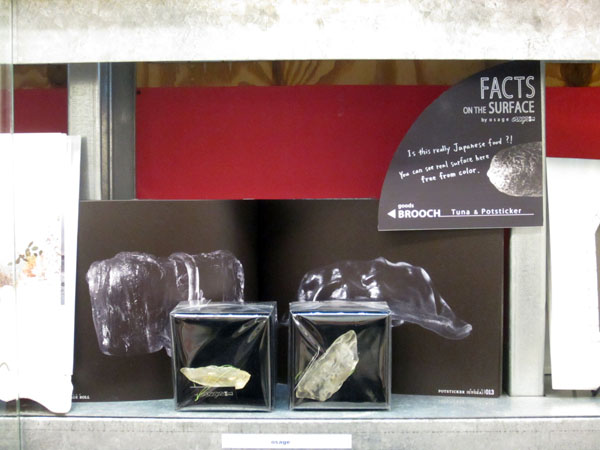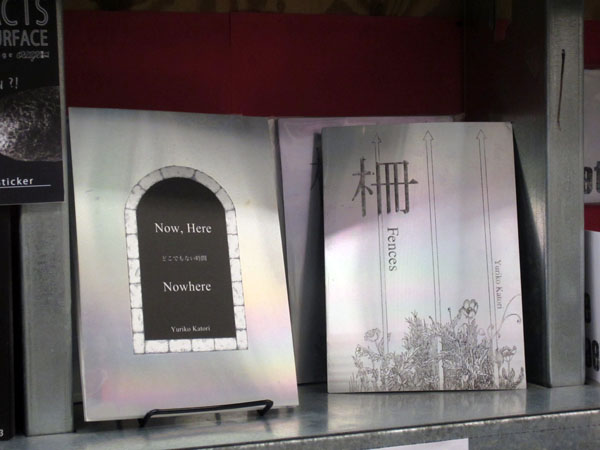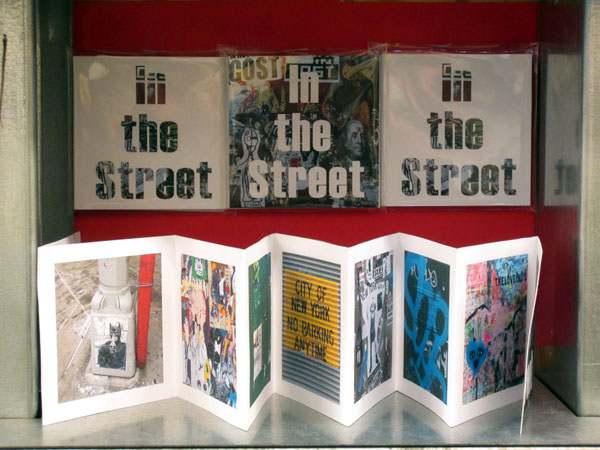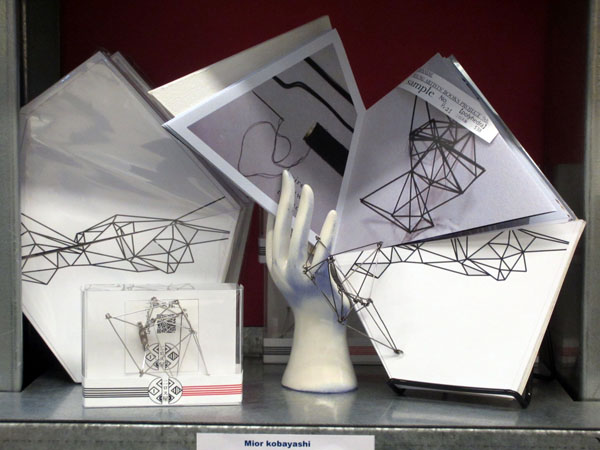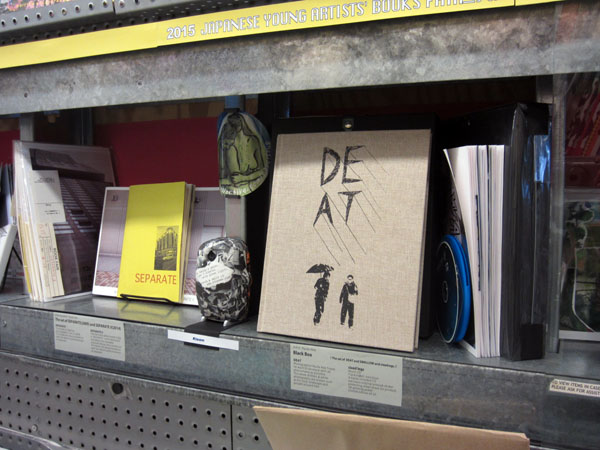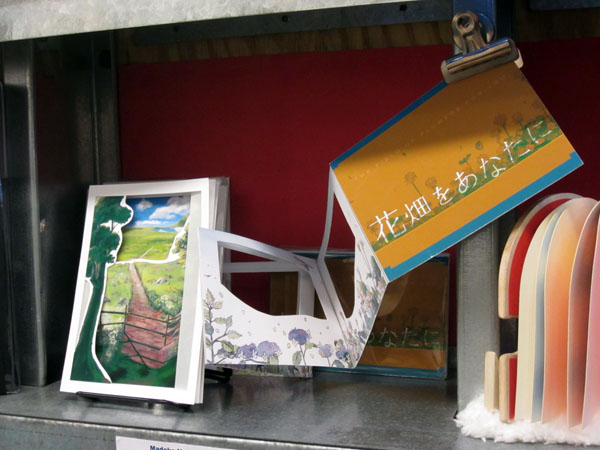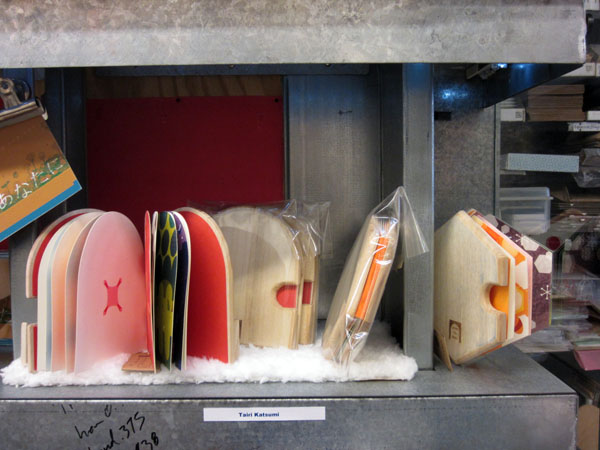 JAPANESE YOUNG ARTISTS' BOOKS FAIR_9th

February27th~March9th.2015



NEW YORK KINOKUNIYA BOOK STORES, Printed Matter, St. Mark's Bookshop, BOOK COURT

Japanese Young Artists are crazy about bookmaking now.
more than100 artists' books at 5 different locations in New York.

PRODUCE : PEPPER'S PROJECT   http://www.peppers-project.com
協賛:ニューヨーク紀伊国屋書店,Printed Matter, St. Marks Bookshop, BOOK COURT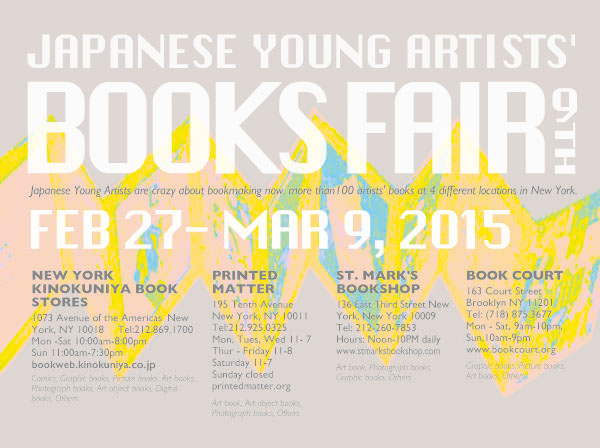 NEW YORK KINOKUNIYA BOOK STORES
Mid Town Bryant Park
February27th~March9th.2015
1073 Avenue of the Americas New York, NY 10018 Tel:212.869.1700
Mon -Sat 10:00am-8:00pm Sun 11:00am-7:30pm
http://bookweb.kinokuniya.co.jp
comics , graphic books , picture books , art books , photograph books , poetry books , art object books, digital books ,others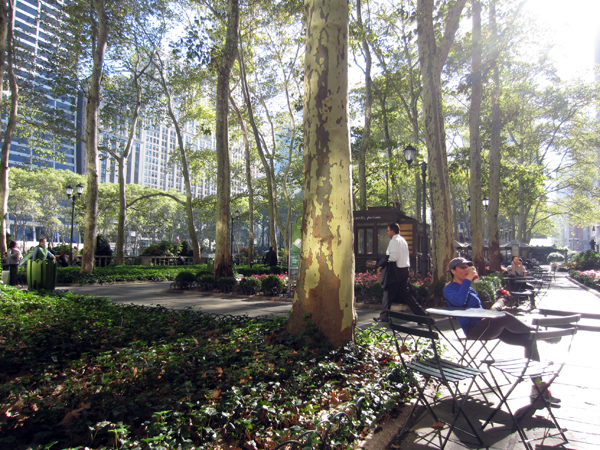 ARTSTS /
前田善志 Yoshiyuki Maeda, めもるmemoru, 矢村 萌 Moe Yamura, 植木葉月Hatsuki Ueki, 安井春菜 Haruna Yasui, 中田円香 Madoka Nakata, osage, yoppii, 出野さゆり Sayuri Ideno, 海野ひかりHikari Umino, 勝見泰里 Tairi Katsumi, 堀岡 暦 Koyomi Horioka, みやおまゆ Mayu Miyao, 矢部 萌 Moe Yabe, Kteam, アーサー・ファン Arthur Huang, 岩立菜々恵Nanae Iwatatsu, 吉崎徳望 Narumi Yoshizaki, 栗崎 心 Cocoro Kurizaki, 原岡容子Yoko Haraoka, 戸川木蘭Mokuran Togawa, 高 瑩 Gao Ying, 根本果奈 Kana Nemoto, 山田和幸 Kazuyuki Yamada, 山本真代 Mayo Yamamoto, 漆原さくら Sakura Urushibara, 小沼加奈 Kana Onuma, 小林澪李Mior kobayashi, 新山 碧 Midori Niiyama, かわらばった Kawara Batta, 池田頼果Raika Ikeda, 田中彩織 Saori Tanaka, 鈴木絵里香 Erika Suzuki
ERICCO, Yuko K., ないとうようこ Yoko Naito, 香取有理子 Yuriko Katori, 松井みさきmisaki matsui, //from the white room., 棚井文雄 Fumio Tanai, 原岡容子Yoko Haraoka, 城林希里香 Kiriko Shirobayashi